Hastings might be famous for a lot of its historical and cultural influences, but there's definitely more to it than meets the eye. Holidaymakers have been flocking to this corner of England for many years because of its seaside charm.
Planning to holiday in Hastings and looking for activities, things to do and places to stay while you're there? Whether it's a week-long trip or just a quick weekend break, look no further with our complete guide below…
Where's best to stay?
Choosing your holiday home is a very important decision to make in the holiday planning process. If you prefer to go self-catering and sort all your meals yourself, it might be best to stay in a nearby caravan park or campsite. Alternatively, those seeking a more relaxing break with a few more luxuries like breakfast and maid services are probably best off searching for a hotel in the town.
Either way, Hastings has plenty of options available for different places to stay. From Combe Haven Holiday Park close to the West Cliff railway to a great selection of B&Bs and hotels dotted along the coastline, there's something to suit everyone's needs.
It's also worth thinking about how close you want to be to all the attractions. A caravan or campsite might be further away, so you'd have to factor in travel around the area. A hotel or B&B is likely to be a better option if you want everything to be right on your doorstep.
The Top 5 Must-See Sights in Hastings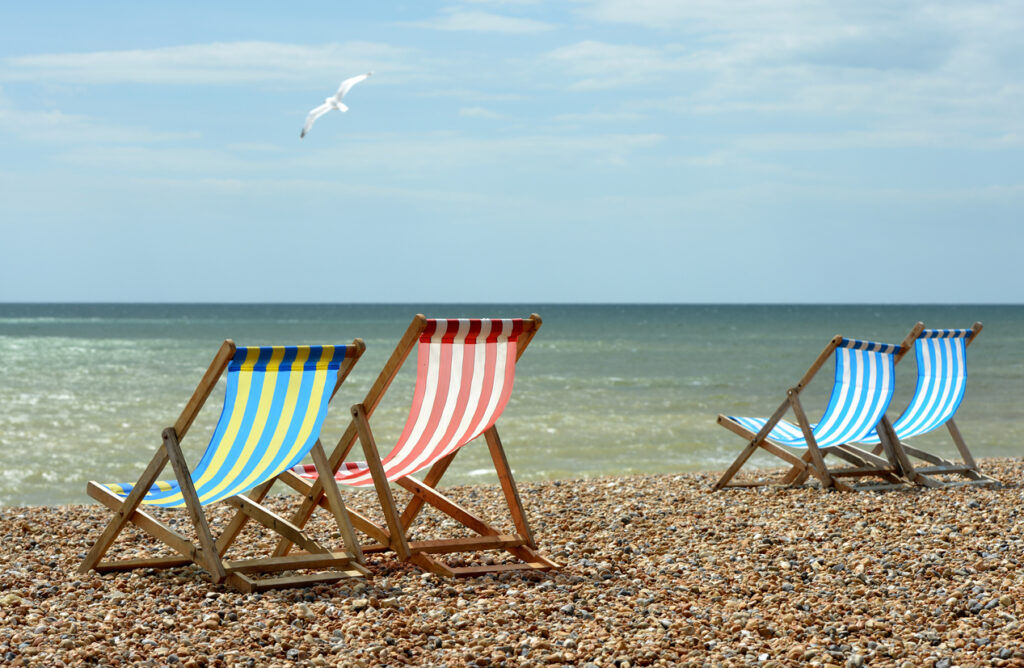 Ready to learn all about the top attractions, where they are, how long to spend there and everything else you should know before your visit? From family-friendly aquariums to beaches, we've included it all right here. Click the links below to find out more about the ones that pique your interest the most or read on to see them all.
A family day out at an aquarium is never a bad idea. Whether you love marine life and want to learn all about the animals that call Hastings Aquarium home or want to tick off one of Hastings' top attractions from your list, this is a must-see destination for your trip. Sharks, octopus, seahorses and pythons are just some of the interesting animals to see here.
The aquarium is teeming with all different fish and sea creatures in a variety of exciting exhibits and enclosures. You can also stop off at the gift shop to pick up a few souvenirs on the way out!
Where to find: The Aquarium can be found at the bottom of East Hill Cliff Railway, right next to the Shipwreck Museum.
How long do people spend here? Your tickets are valid for the full day, so you can spend as much time as you want here, although the average visit is around an hour. There's plenty of sea creatures to see, and you can time it to see the exhibitions and feedings. You can even get stamped so you can come and go as you please!
Quaint and quirky, Hastings Old Town is the place to be. With a typically Medieval layout and the remnants of an ancient city wall dating back to the 14th century, this place is steeped in history. They call it the old town for a reason!
Although you might feel you've stepped back in time here, rest assured there's plenty of life around and things going on. The High Street Is lined with old buildings covered by Georgian façades that are now home to antique shops, unique boutiques, galleries, cafes, and obviously a few seafood restaurants supplied by the fishing town itself.
There's also plenty of attractions here, including the aquarium and a seafront funfair.
Where to find: The old town can be found on the eastern side of Hastings, starting at the bottom of East Hill.
How long do people spend here? The amount of time spent here is really up to you. You could even spend a few days just exploring this area! The old town has a great selection of family attractions, restaurants, bars and shops to enjoy, so we'd recommend at least a day here.
What's a seaside town without a great pier? We wouldn't know – Hastings has a fantastic one! The pier always has something going on, whether it's a tribute act or a 90s-themed silent disco. The open-air entertainment is a really unique thing for visitors to enjoy.
Prefer a more chilled-out experience or don't have too much time on your hands? The restaurants and bakeries scattered across the length of the pier are great for a quick bite to eat or a nice sit-down meal with a few relaxed drinks.
Where to find: You can't miss the pier, really. Head down to the White Rock Theatre on the seafront and walk down from there.
How long do people spend here? An hour here will be well spent. Of course, if you're there for an event you'll probably be there much longer.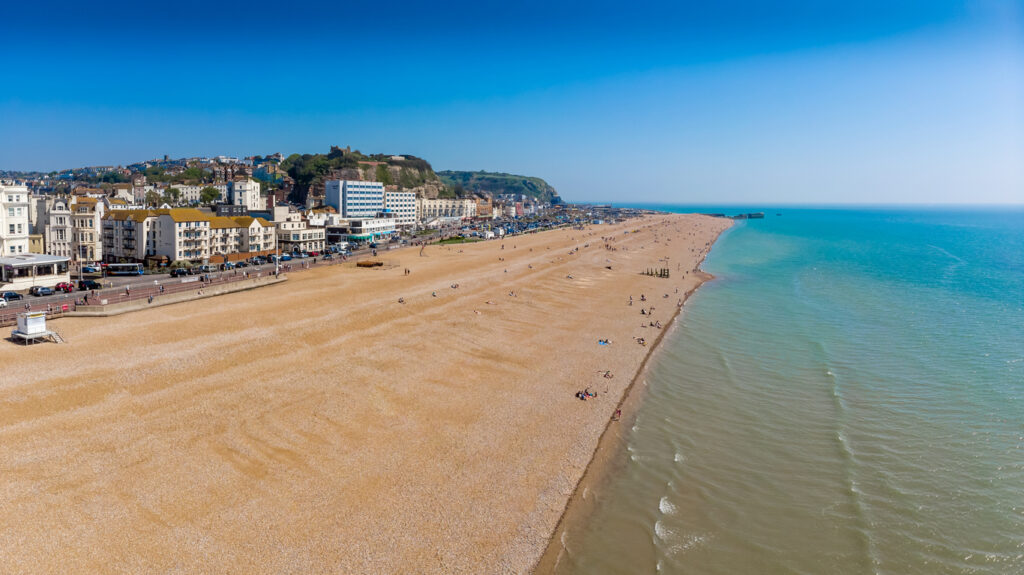 Holidaymakers coming to Hastings for the typical seaside experience should always visit Pelham Beach. Why is that? Well, this beach has all the things you'd expect, and more.
Not only is it the most accommodating patch of coastline in Hastings, but you'll also get a few areas of sand after the tide recedes, which is rare on the south coast of England. There's also lots of cafes, restaurants, fish 'n' chips takeaways and even ice cream parlours. The British seaside experience always starts with the food!
Apart from the food, holidaymakers can find plenty of family fun-filled attractions here, such as adventure golf and arcades. The 2-pence machines are already calling your name!
Where to find: You can find this patch of beach sandwiched between the pier and the harbour.
How long do people spend here? An afternoon here or at least a couple of hours should leave the whole family in a good mood.
Alexandra Park takes up nearly 109 acres of the town and is perfect for a peaceful stroll. If you're planning a family picnic or searching for something a bit different, the park can give you a quick respite from the busy seaside town.
At the lower section, you'll find formal gardens circling the reservoirs, while the northern area has kept the natural charm of the woodland. The kids will love the adventure playground, but the adults can also enjoy the beautiful scenery and exceptional collection of trees, plants and flowers scattered around.
Where to find: The park has a few different entrances, but from the town, it's usually easiest to enter from the south entrance on Dordrecht Road.
How long do people spend here? The grounds are pretty extensive, and you could spend a long time here, but most people typically stay for around 1.5 hours.
Holiday planning has never looked so good in Hastings! For more information about us at Hastings Aquarium or to book tickets, visit our site.