The Return Of Swashbuckle Sunday
Sunday 17th July 2022 | 11am-4pm
AVAST YE LILLY-LIVERED LANDLUBBERS!
It's the return of Swashbuckle Sunday! ⚔️
Join us at Hastings Aquarium next week for an afternoon of live pirate performance. Meet chief Rapscallion Captain Barnacle Bob and be spellbound by his ghostly tales of the high seas 🌊
There'll be an adventure trail, arts and crafts and, of course, thousands upon thousands of sea creatures – from tropical sharks to a Giant Pacific Octopus! 🦈🐡🐙
It's all part of Hastings Pirate Weekender.
Be there… ELSE YE WALK THE PLANK!
AAAAAAAAARRRRRGHHHHH
Entertainment provided as part of standard admission price – no additional booking required. Visit our website to book.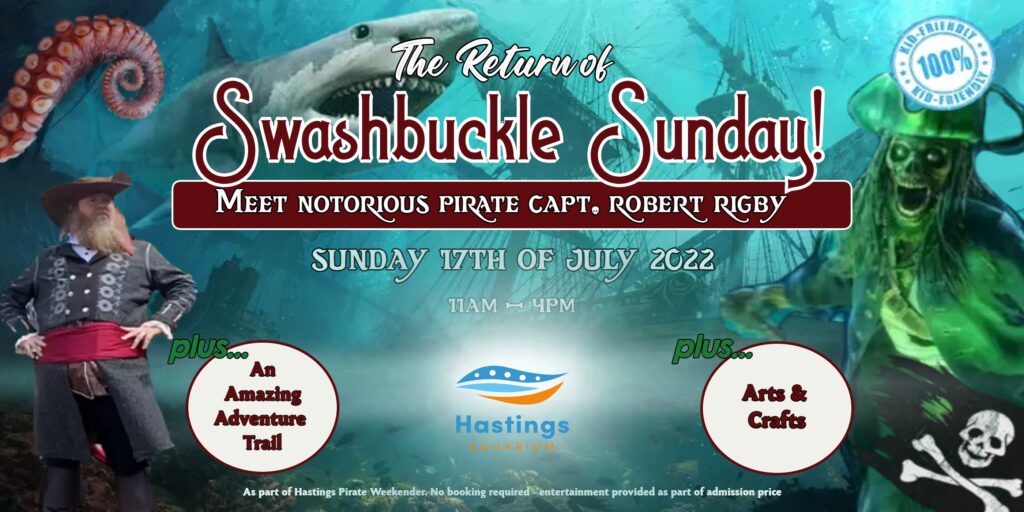 At Hastings Aquarium the fishy themed fun never stops! From daily talks and new species arriving all the time there is always something to see and enjoy on your visit. We also host regular events, during school holidays, key weekends and much much more…