Hastings might not be the most obvious English holiday destination choice, but we reckon it really should be. And why is that? For starters, Hastings has a great mixture of activities and things to do that are suitable for all ages and are sure to keep everyone engaged and entertained.
This seaside town also has pockets of history just waiting to be cracked open and explored along its eight miles of coastline. From innovation that affected the whole world to the darker side of Hastings' history, there's always been a lot going on in this corner of England.
So what exactly is Hastings best known for, and why is it worth visiting? Here, we'll share all the things the seaside town is most famous for, from its smuggling past to the art and cultural influences.
Hastings Castle & the Battle of Hastings
Starting off with the part of history that Hastings is probably best known for, let's delve into the Battle of Hastings from way back in 1066.
Although the battle didn't technically take place in Hastings, the event and the area are still intertwined since William (the Duke of Normandy) ended up building Hastings Castle after winning the battle against Harold II of England. So, why were they fighting?
Harold was the King of England at the time, which the Norman invaders wanted to change. With his Norman Army by his side, the duke was preparing to take the crown by any means necessary. This resulted in the famous day-long battle between the two, ending with Harold being killed and the Normans winning.
You might be wondering how Hastings Castle fits into all of this. The following year in 1067, William (now called William the Conqueror) began building the first Norman castle in Britain. This represented a shift in Britain's historical, cultural and political history, mainly because a Norman was on the throne for the next few decades.
Smuggling history
Smuggling was, and still is a massive part of the history in Hastings. And at the centre of this was St Clements Caves on the West Hill.
The dark tunnels and caves were the perfect location for trading, selling and buying illegal items under the noses of the authorities.
But over the several thousands of years we've known about them, they've been more than just the top location for smuggling and piracy. They've also been the site of a home, air raid shelter, hospital and even a ballroom!
Interested in hearing the tales of the smugglers? Come along to Smuggler's Adventure!
Oldest Beach-Based Fishing Fleet in Europe
As well as being one of Britain's oldest fishing ports, Hastings is also home to the very first and largest beach-based fishing fleets in Europe.
The hardworking fishermen at this port work day in and day out, catching fresh fish to be sold in the shops just next to the beach. The fleet is very impressive to look at, but if you're walking by, be sure to watch out for any trip hazards along the beach.
The best time to go and see them working away is at the very start of the day when they're hauling their boats out into the sea. You know what they say – the early bird catches the worm!
Largest Seaside Town on England's South East Coast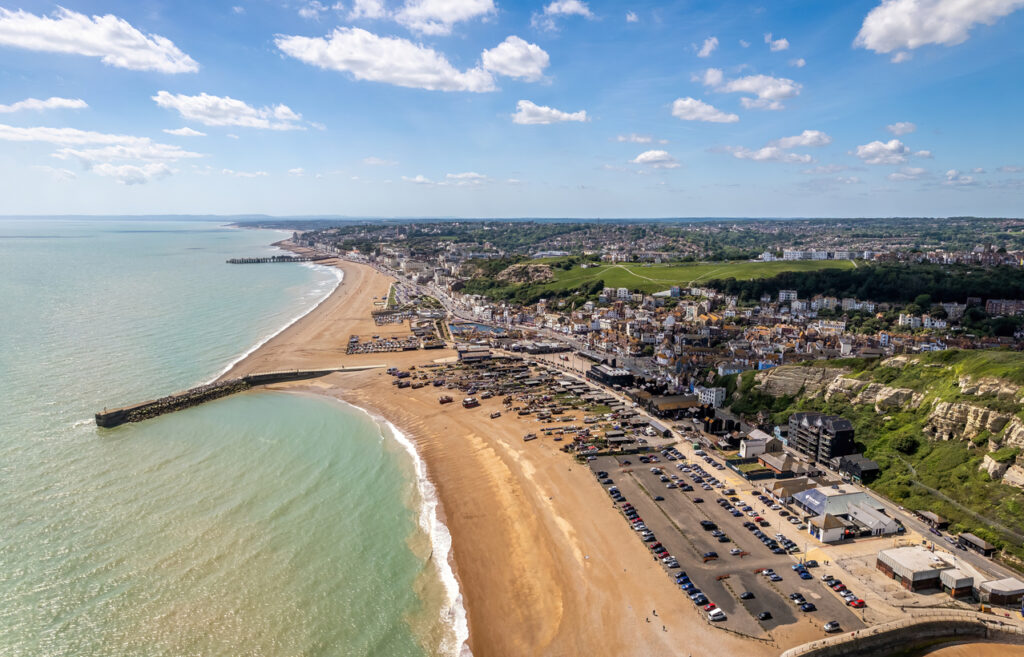 If the beach is the most important thing for you, then you're in luck. Hastings is officially the biggest seaside town on the South East coast of England! Since beaches are such popular places to travel to, it's no wonder that the size of this one is something that draws people in from all directions – even nearby beach towns.
You're sure to find all the typical tell-tale signs you're in an English seaside town here, from an abundance of fish 'n' chip shops to the seagulls circling in the sky.
Arts & Culture
Art and cultural inventions and innovations have undoubtedly had a huge impact within Hastings and across the country. So, here are a few of the main arts and culture-related things that the seaside town is famous for…
John Logie Baird: The Inventor of TV
Hastings actually had a huge influence on everyone's lives since it's the birthplace of television!
John Logie Baird was the official inventor of television nearly 100 years ago, in 1926. And while he wasn't born in Hastings, this is where he moved to before starting his extraordinary work.
Baird was not only involved in the first transatlantic television transmission between London and New York, but he also played a key part in the first transmission to a ship sailing in the mid-Atlantic.
His very earliest inventions wouldn't seem like much to us today, but they helped him understand what was needed to create television. By 1924 he was able to transmit a flickering image across a few feet. This was seen as a huge achievement at the time, but obviously, he kept pushing on with it. On 26 January 1926, he was able to give the world's very first demonstration of true television in front of 50 scientists in central London. We bet that was nerve-wracking!
By 1927, his incredible invention had been demonstrated across hundreds of miles of telephone line between London and Glasgow. He also formed the Baird Television Development Company, known as BTDC.
Fun fact: Sound and picture were initially broadcasted alternately. It took until 1930 for the two to be transmitted at the same time.
Also towards the end of the decade, the German post office provided him with the facilities to develop an experimental television service based on his system. However, Baird's mechanical system was quickly becoming outdated as more advanced versions were developed by other companies such as Marconi-EMI in Britain and America.
After a BBC committee of inquiry in 1935 prompted a trial between Marconi-EMI's all-electronic television system and Baird's system, Marconi-EMI won. So by 1937, Baird's system was dropped as the system of choice in Britain. But, of course, the facts still stand that somebody in Hastings created something we now use in everyday life. That's pretty cool!
David Hockney
Widely considered to be one of the most influential artists of the 20th Century, David Hockney moved to Hastings while serving under National Service as a Conscientious Objector in St Helen's Hospital. Whilst he was there, he saw several art exhibitions, including one from Jackson Pollock.
These influenced him to enrol in life-drawing classes at Hastings College of Art before heading off to the big smoke and joining the Royal College. Over his lifetime, he has created incredible colourful art pieces influenced by cubism, pop art and, of course, modern art.
It's common to find a few of his pieces dotted around the galleries in Hastings, so look out for them on your visit!
Aleister Crowley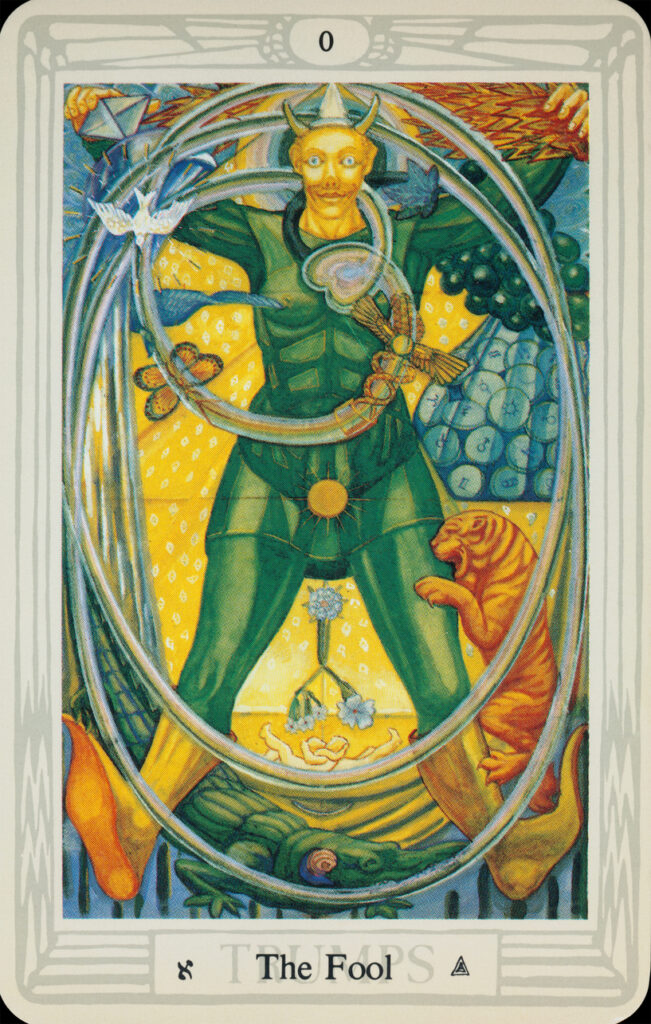 Crowley is famous for some very unusual and disturbing reasons. Do you know who he is? If not, let us give you a bit of a backstory.
From very early on, he seemed to defy the Christian beliefs that most held at the time in the late 19th and early 20th centuries. He was given all sorts of horrible nicknames which he strangely seemed to enjoy, such as 'the beast'.
As he got older, he started to create his own religion and principles, called the Law of Thelema. He gained quite a following during his lifetime and many began following his religion and teachings. He wanted people to live freely and without rules.
His disturbing lifestyle eventually got the better of him though, and he died in 1947. But before this, he wrote a book called The Book of Thoth which he created a set of tarot cards based on. These cards can still be found today.
Robert Tressell
Our final famous man is Robert Tressell who moved to Hastings in 1901 to live with his sister. During this time, he worked as a mural painter and sign writer across the town, although this wasn't what he was best known for in the end.
When he wasn't painting, he was writing the book 'The Ragged Trousered Philanthropists', set in the fictional town of Mugsborough which was based on Hastings. His book highlighted the poverty and suffering of workers in the building trade, influenced by his own everyday experiences.
The manuscript was left with his daughter when he set off first for Liverpool with the intention of going across the pond to Canada, but he caught tuberculosis and never made it.
His daughter released the manuscript, and it was eventually published in 1914 – just three years after his tragic death. The book had a massive influence on how society was viewed and what needed to change to make England's towns and cities better to live in.
Fun fact: Robert Tressell wasn't his real name! He was born Robert Noonan but used Tressell as his pen name.
To learn more about us at Hastings Aquarium or to plan your next visit, check out our website.